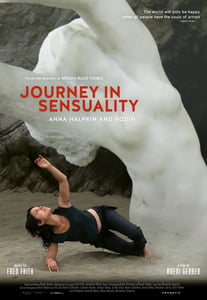 $

150.00
Journey in Sensuality -- Anna Halprin and Rodin I Dance & Yoga Studios
"The world will only be happy when all people have the souls of artists."
- Auguste Rodin


After the international success of Breath Made Visible, Journey in Sensuality brings new insight into Anna Halprin's influential artistic work. Auguste Rodin's sculptures and Anna Halprin's creative process come together with the music of composer Fred Frith in this poetic film of dances in nature.

While in Paris for a major retrospective of her career at the Centre Pompidou, the American dance pioneer Anna Halprin reflects on her devastation of the images the pervasive violence in the world and seeing the most unimaginable horror of tortured, starved bodies at the Holocaust Museum. In the hopes of lifting her spirits, she visits the Musée Rodin, and is so deeply moved that she decides to create a performance based on Rodin's sculptures; expressing her vision, like Rodin, of the human body being a reflection of nature, something innocent, true and beautiful and the world's need for artistic beauty.

Rodin's sculptures spoke directly to her kinesthetic sense. His knowledge and struggle to capture the expression of the nature of the human body connected directly with her vision of dance. It also spoke to her lifelong quest for non-stylized, authentic movement.

This one-hour film, Journey in Sensuality – Anna Halprin and Rodin, offers for the first time ever in her 70+-year career, an intimate view into Anna Halprin's creative process and the making of a performance. It shows how she prepares the dancer, using Rodin's sculptures as a container, to create a performance that is at once authentic and visually powerful and touches the audience on an emotional level. The movement of the dancers and images of Rodin sculptures are supported by the brilliant, innovative score by composer, Fred Frith.

Melding Rodin's sculptures and testaments with the stunning footage of rehearsals on the Northern Californian coast, and the final piece performed by the nude dancers of the Sea Ranch Collective in a redwood forest, this film is a poetic portrait of the coming together and coming to life of the visions of two great artists.
LA TIMES CRITIC'S CHOICE!